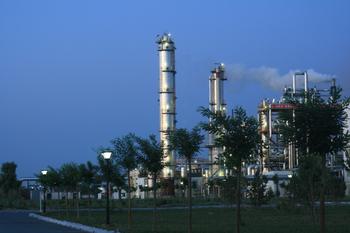 It is understood that in 2012, the price of methanol fluctuates and falls, making the upstream production enterprises suffer from losses. Under the background of overcapacity, some companies have launched methanol-to-olefins projects, and they have extended to the lower reaches of the industrial chain while consuming large amounts of methanol. Concerned about the industry, new projects may bring new excess capacity.
First, the contradiction between supply and demand gradually emerged
In the postal warehouse of Nanjing Lanyan Petrochemical Company, when it comes to strong downstream purchasing demand, 40 methanol storage tanks with a capacity of 30 tons can enter and exit in one day. According to the person in charge of the company, 1200 tons of methanol can be towed away in one day with the progress of loading a car every 20 minutes.
However, on October 23, when the reporter came to the scene, he saw only one tanker carrying out the task calmly in the square, making it difficult to find a queue.
Li Yan, vice president of Lanyan Petrochemical and general manager of Pingli'an Petrochemical, told reporters that due to the lack of demand, the days of upstream and downstream of the methanol industry this year are not very good, and many companies are on the verge of losses. Lanyan Petrochemical is a large-scale refined oil product, chemical storage and trading company in East China. Its Pinglien company is an intermediate methanol trader, relying on the freight transportation advantages of 10,000-ton terminals and railway lines, and participates in the ** protection. Only slightly better days.
"Downstream decides upstream." Peng Xingxing of Nanjing Johns Petrochemical Co., Ltd. said that the methanol market has a clear buyer's market characteristics, and price fluctuations are mainly affected by downstream demand. This year's economic growth has slowed down, real estate, construction and other industries related to the downstream products of methanol have been deeply adjusted, and the demand is not directly transmitted to the upstream manufacturers.
"If the price of methanol drops below 2,700 yuan/ton, the methanol manufacturers will be in a loss state." Chenggang Li, general manager assistant of Anhui Jinzhong Coal Chemical Co., Ltd., an upstream producer, introduced that the average production cost of methanol at the current stage is about RMB 2,750/ton, The price is around 2,800 yuan/ton, eliminating transportation costs, and the profit of methanol is rather meager.
However, the Securities Times reporter found during the survey that the consumption of methanol in the first three quarters of this year was not worse than last year. Industry insiders estimate that the national apparent consumption of methanol will be between 28 million and 30 million tons this year, an increase of one to two percent year-on-year, and will maintain the trend of higher growth in previous years.
"Although the impact of real estate regulation and control, downstream products such as formaldehyde, sheet and other reduced, but the new use of methanol fuel, methanol, dimethyl ether, and other rapid growth has become a strong support." According to Wei Hualei, a senior analyst of the International ** East China region.
In fact, the most important factor in price decline is overcapacity. The upstream and construction of new methanol projects have been cut off and become the source of excess capacity. According to incomplete statistics, in recent years, listed companies such as China Coal Energy (601898), Lutianhua, and Guangzhou Holdings have successively entered methanol production; China Shenhua (601088) and Lanzhou Kechuang (600123) have also expanded production.
According to preliminary statistics, a batch of methanol projects will be restarted in the Northwest region this year. Such as Gansu Bluestar 200,000 tons/year, Huating Zhongyu 600,000 tons/year, Qinghai Zhonghao 600,000 tons/year, Golmud oil refinery 300,000 tons/year methanol plant has been restarted and commissioned, Hebei coke oven gas production load has increased significantly It is also producing methanol. The industry is expected to gradually increase the supply of methanol market.
The reporter learned that due to the special nature of chemical companies, once the production is stopped, it will face very large losses. Some companies would rather maintain production if they lose money. In addition, some manufacturers use methanol production process methanol, methanol as a byproduct can not be unilaterally suspended production. These factors have exacerbated excess capacity.
According to Wei Hualei, a senior analyst at the International ** East China Region, the current market demand for methanol is still at a relatively high level, so the short-term market supply and demand is relatively balanced. However, from the medium-term perspective, with the external atmosphere oscillating, and the decline in China's economic growth and the onset of the off-season demand, downstream demand will decrease, and the contradiction between supply and demand in the methanol future will gradually emerge.
Second, the middle trader's inventory skills
The experience of Nanjing methanol traders is quite representative. East China is the country's largest methanol consumption area. In 2011, the country's apparent methanol consumption was approximately 25 million tons, an increase of approximately 22% year-on-year, of which approximately 44% was in eastern China and 12% in southern China.
The consumption area of ​​methanol is in East China, but the production area is far away from the northwest, which means that most of the spot price of methanol contains a lot of transportation costs.
Zheng Kexin methanol ** person in charge Shen Kaixin told reporters that methanol transport mainly rail, water transport and automobile transport in three ways, of which the highest cost of motor transport, according to the different transport distance, tons / per kilometer costs 0.5 yuan -1 yuan .
Due to high transportation costs, methanol is transported from the Northwest through trains and ships to a chemical storage facility near the 200-kilometer-consuming area, where it is relayed by car. This process generally takes 10 days to 15 days. The risk arising from fluctuations in market prices during this period is borne by intermediate traders.
Traders can buffer to a certain extent through inventory adjustments. However, this method is not enough time. An obvious phenomenon is that the price of methanol ** has risen, the number of downstream order calls has continued, inventory has quickly been swept away; the price of methanol has fallen, the upstream is eager to ship, traders have to accept for stable supply, and the downstream has delayed purchases. No inquiry.
According to the heads of several large-scale methanol traders, for the sake of stable supply, trading companies and upstream manufacturers will generally enter into long contracts, which will be settled at the average price. Therefore, it is very important to use stocks to regulate supply and demand.
In the East China region, Anhui Jinmei Zhongneng Chemical, Nanjing Lanyan Petrochemical, and Hanks Petrochemical have their own annual inventory. After the listing of methanol **, the three companies use spot inventory to formulate hedging strategies to lock in profits, participate in ** delivery to build "virtual inventory", or combine long contracts with loose contracts, which is a company that has survived relatively well in the industry chain.
The flexible operation strategy of traders has attracted the attention of upstream producers. A trader revealed to reporters that upstream manufacturers such as Qinghai Zhonghao, Shenhua Shenmu, Shenhua Ning Coal, and Xinjiang Guanghui have also shown strong interest in participating in methanol.
Third, excess production capacity extends downstream
Affected by the economic downturn, the current production of methanol, formaldehyde, acetic acid and other downstream products have been thin and difficult to continue. According to Shenyin Wanguo analysts, methanol is shifting to three new directions for consumption. First, the production of dimethyl ether fuel; the second is to directly add gasoline blending, low-rate blended cars without any changes; third is to use methanol to make olefin products , can ease the lack of naphtha in China and low carbon olefin dependence on the international market.
In the new consumption direction of methanol mentioned above, alternative energy sources are the most promising prospects. Methanol automobiles are an important part of China's new energy vehicle strategy. Methanol fuel and dimethyl ether have been identified as alternative vehicles for transitional vehicles over the next 20-30 years. Compared with new energy vehicles such as electric vehicles and hydrogen-powered vehicles, methanol gasoline is a more realistic new energy source.
However, with the large number of methanol-made dimethyl ether projects launched in recent years, the dimethyl ether fuel market has also seen a surplus. Dimethyl ether as a blended fuel, due to the frequent occurrence of major safety accidents, the current regulatory authorities across the country have stepped up the monitoring of the production and transportation of dimethyl ether.
During the visit, the reporter found that some companies in the midstream of methanol began to extend into the third direction of consumption, that is, to make olefins from methanol.
Olefin is an intermediate chemical raw material that can be used to make polyethylene and polypropylene, and it can be used in the end markets of plastics, man-made fibers, and textile fabrics. The ratio of methanol to olefins to finished products is approximately 3:1, that is, 1 ton of olefins is produced from three tons of methanol. The olefin project is an effective method to resolve the excess methanol production capacity.
In November of this year, the 600,000-ton methanol-to-olefins project of Ningbo Haoyuan Chemical, which has attracted much attention from the market, is about to start. The annual methanol demand will be over 1 million tons.
A clean energy company in East China also joined the ranks of methanol and olefins. The company's source responsible for the procurement of methanol raw materials said that at the time of initial planning, project profits can be guaranteed and risks can be controlled. However, at present, there are many olefins projects around, and the profit after the start of production in May next year is still unknown.
According to Axis Chemical statistics, as of the end of 2012, there will be five petrochemical manufacturers in China to expand or put into production olefins according to plan, and release capacity of 2.89 million tons per year. By then, the domestic polyethylene production capacity will reach 11.95 million tons/year, and polypropylene production capacity will reach 12.12 million tons/year.
Wei Hualei, an international analyst, said that at present, there is no accurate statistics on the total scale of olefin production in China, but olefin production capacity will greatly affect the methanol market. Another analyst worried that the excess capacity of methanol will be extended to olefins, repeating the mistakes of methanol-made dimethyl ether. "If petrochemicals continue to expand production capacity in the next few years, competition will be intensified."
It is worth noting that in the olefin field, there are both methanol to olefins and crude oil to olefins. If the crude oil price is less than 90 US dollars in the future, crude oil to olefins will have a greater cost advantage than methanol to olefins. This will be another risk factor that may affect the methanol industry chain.
Full Set Transparent Orange Clear Housing Shell Case Cover For Nintendo For Gameboy Advance Console For Gba Repair Parts
New Product Co., Ltd. , http://www.nbgameaccessories.com